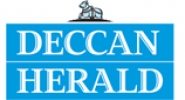 Advertise on Deccon Herald Newspaper Coimbatore
Sri Balaji Ads & Communication provide excellent Advertising Services to our clients for their brand promotion. Increase Your Business by Advertisement. We provide all types of Newspaper advertising in Coimbatore. You can book your advertisement in any newspaper–national or regional or even international, big or small. A newspaper is a scheduled publication containing news of current events, informative articles, diverse features, editorials, and advertising. It usually is printed on relatively inexpensive, low-grade paper such as newsprint.
Newspaper and Magazine advertising is a proven way to market products.  This mode of advertising has proved successful over the years. We are one of the leading Newspapers and Magazines Advertisement company in Coimbatore. Advertising is a good way to increase exposure without the large cost involved in reaching the audience.
Deccan Herald's first venture outside of Karnataka, though the paper admits that it will find it very hard to compete in what is India's most competitive newspaper market with 15 newspapers on the market already. Deccan Herald was published from Hyderabad many years ago but stopped owing to dwindling circulation figures. We are provide Deccan Herald Newspaper Advertising in Coimbatore.
Newspapers and Magazines advertising agencies are in regular touch with the newspapers, they are familiar with the ad trends and rates So, it is advisable to move via newspaper magazines advertising agencies in Coimbatore and newspaper magazine ads agents in Coimbatore. We are also provide a newspaper classified advertisement, job advertisement, local Newspaper ads in Coimbatore.
At Sri Balaji Ads & Communication, we are much more than an Advertising Agency in Coimbatore. Every Newspaper have there different ad Rates according to circulation criteria. Different publications may give different type of offers for different ad categories. Here, you can attain the information about Deccan Herald Newspaper advertising Charges Coimbatore of all editions of Newspapers and Magazines.